.
.
.
.
.
.


Keep an "open" mind here now seniors.....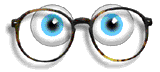 Do you need glasses??
Look carefully at the picture below.
Did you see the bare butt of the girl in the background?


.
.
.
.
If you see that in the picture, you need to have your eyes checked, as that is the shoulder of the girl holding the camera


........my appointment is at 2pm tomorrow
.
.
.